No piece of art has ever affected me quite like John Candy's face in Planes, Trains and Automobiles. It has made me cry for thirty-five years, rivulets of tears. It has shown me that nothing evokes loneliness like a face. John Candy's face simultaneously reveals warmth and fatalism (it's the face of a man who always feared he'd die young — and did). His unibrow is childlike and genuine. His smile is never fake. But Candy's shower curtain ring peddler Del Griffith is smiling through pain. He's hiding behind the mask of a gregarious family man and "best in the world" salesman (with a bowtie and bristly mustache). His smile hides a secret: Del Griffith is a grieving widower, and his home is inside an old trunk he carries around like luggage.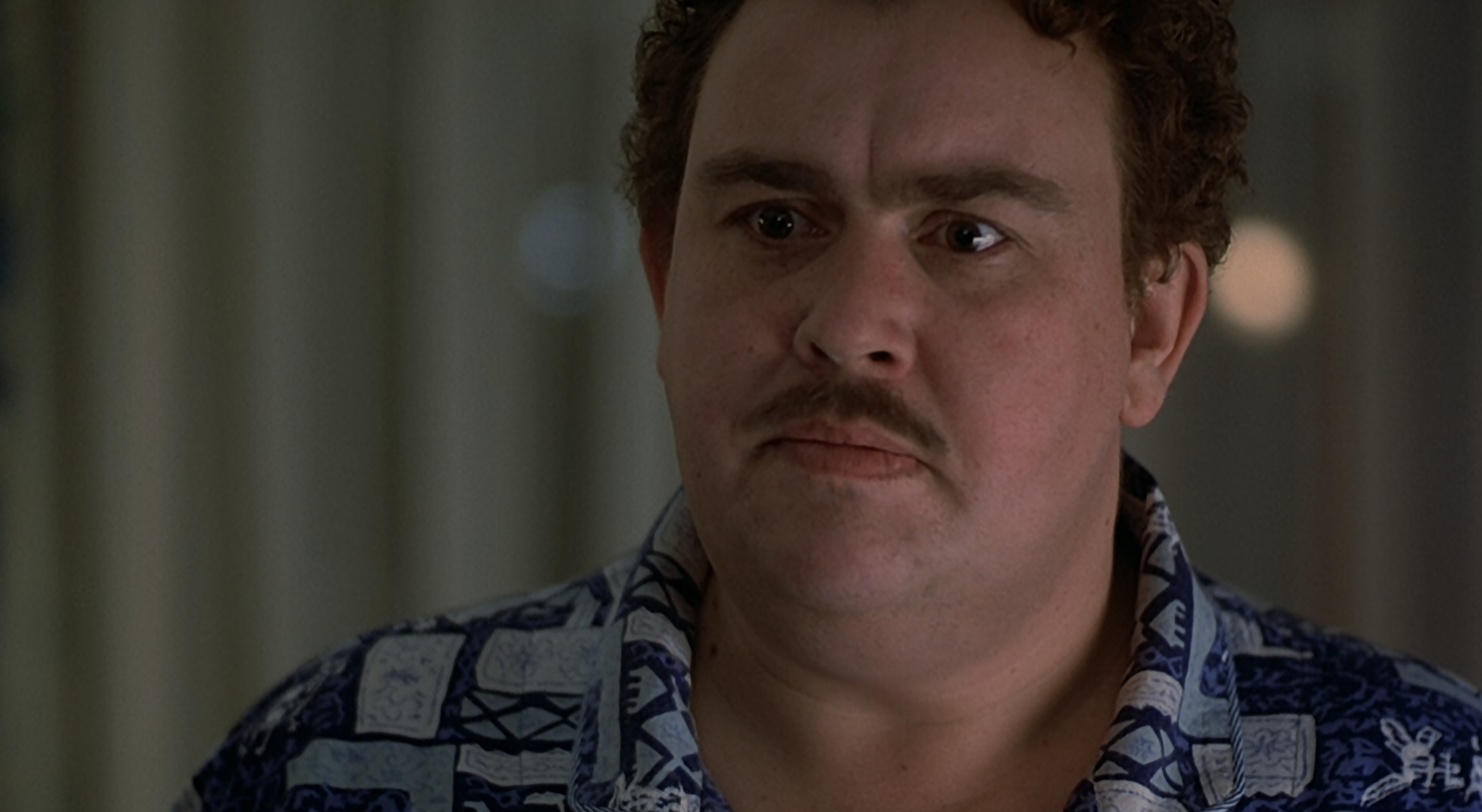 As Del Griffith, John Candy's face plays in the key of Roy Orbison's "Only the Lonely": there goes my baby. There goes my heart. They're gone forever. It's a face that captures the kind of film the studios are longer producing: sincere, vulnerable, schmaltzy and unapologetically Midwestern.
My relationship with the Midwest is filled with sentiment and reverie. It lives behind a white picket fence and a green lawn glittering with artificial raindrops. I associate the Midwest with Superman comics, family sitcoms, ruby slippers, enclosed shopping malls and John Hughes movies. I've never lived there; I know nothing about the real Midwest. I find my Midwest in John Candy's face; a face that symbolizes a faint glimmer of hope for a land that probably only exists in flickering images of idyllic snow, red-bricked homes, freckled children who drink milk, noogies as demonstrations of affection and Thanksgiving dinners where the main course is mother's home-cooked smile.
Planes, Trains and Automobiles is about a lonely salesman who wants that, who maybe had that once — but not anymore.
Most John Hughes films are about lonely people. Sixteen Candles is about a girl who feels alone on her birthday. Home Alone is about a boy who is home alone on Christmas Eve. National Lampoon's Vacation (based on a short story by John Hughes) is about a dad who is alone in his desire to have the perfect family vacation.
Planes, Trains and Automobiles is about an anal-retentive cynic, Neal Page (played by Steve Martin), and a bumbling and overly chatty shower curtain ring salesman who travel together from New York to Wichita to the suburbs of Chicago; unwillingly for Neal, who just wants to get home in time for Thanksgiving. Del clings to him and helps him along the way. But Neal doesn't know Del is grieving and homeless. Del hides his embarrassment by playing a husband with a loving wife named Marie (we only see her in a framed picture, which should tell you something).
The film's dramatic tension concerns Del's secret: that his wife's been dead for eight years. The comic tension is the odd-couple pairing of the helplessly goofy salesman with the slick marketing executive. They're like a divorced couple. Del's shambolic antics causes them to bicker and bond as they barely make it back to Chicago in one piece. Along the way, an exceptional cast of character actors (e.g., Edie McClurg as a politely passive-aggressive car rental agent) turn their road trip into a Midwestern farce with the rising pressure of a disaster film. The final seven minutes turns the farce into a serious drama when Neal realizes Del doesn't have a family — taking him home for the holidays at last.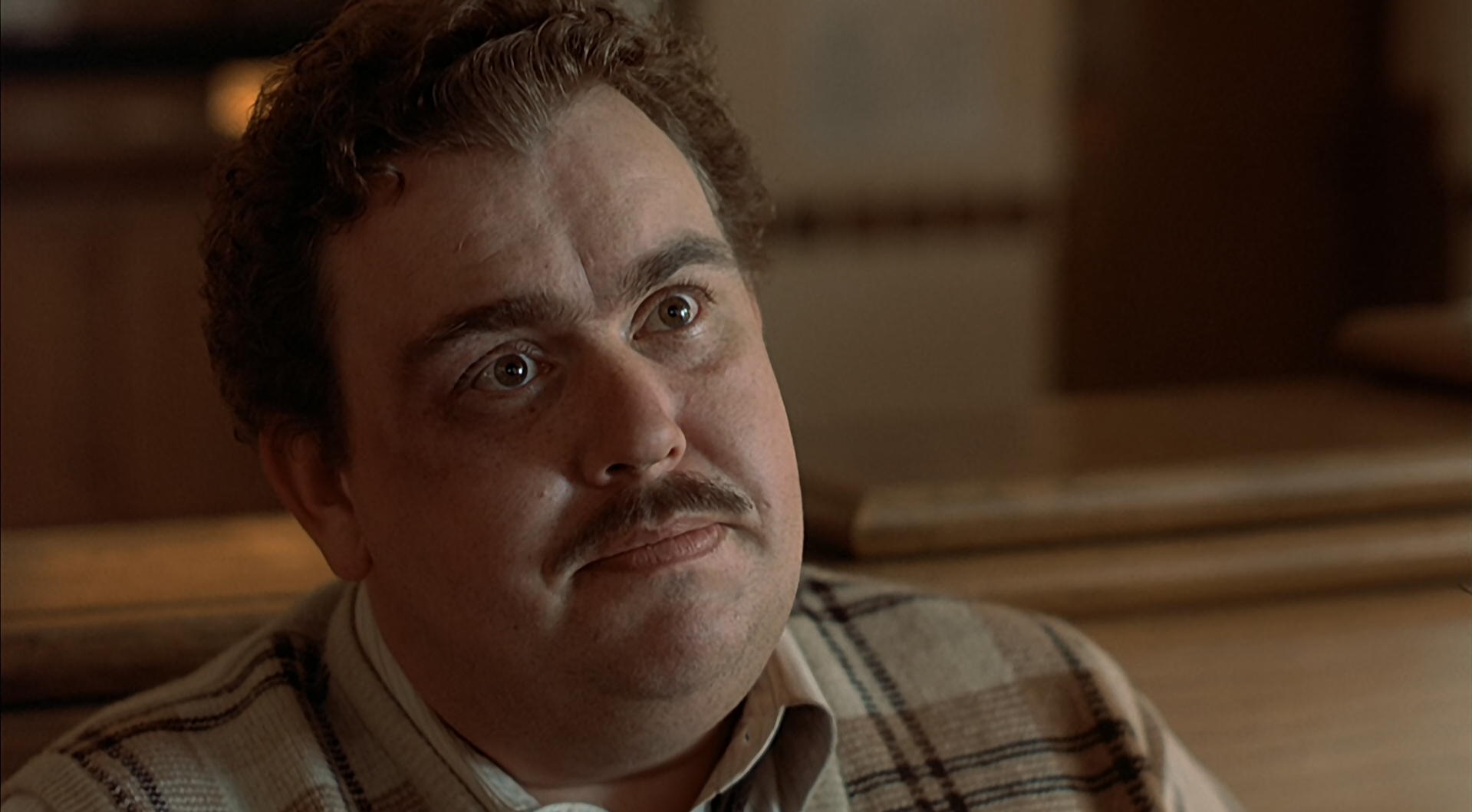 Back to John Candy's face: it deserves an Oscar. It conducts the emotions of the whole film. In two scenes, especially, the hurt in his face changes the emotional tenor of the entire film.
The first scene: Del's face falls as Neal tears into him for being talkative and lacking boundaries.
"You want to hurt me?" says Del, as his voice trembles. "Go right ahead if it makes you feel any better. I'm an easy target… but you think what you want. I'm not changing. I like me. My wife likes me. My customers like me. 'Cuz I'm the real article. What you see is what you get."
Del is the everyman with a heart of gold — and nobody, and I mean nobody, plays this better than John Candy.
The second scene: Neal discovers Del sitting alone in the station. It's the most heartbreaking moment in the film. It's when Del finally confesses that he doesn't have a family or a home. John Candy does this like a small child who is embarrassed and lost. Neal finally empathizes with him.
"I don't have a home," he says. "Marie's been dead for eight years." We cut to Neal and Del carrying the trunk (his home) down a snow-covered road surrounded by leafless trees. They approach Neal's red-bricked house. "Every Time You Go Away" plays as a freckled little girl opens the door. "Daddy!" Del meets the family as Neal's wife stands above the stairs. She's about to cry. "I'd like you to meet a friend of mine," says Neal, as Del looks like an orphan who just met his mother. He coyly forms a smile, nervously rubbing his leather cap with his red mittens.
The film ends with a still of John Candy's face. He's smiling, really smiling. He has a family to spend Thanksgiving with. It's what I'm thankful for — not the turkey, in-laws or football games, but the vulnerability in that face. It makes me cry. It reminds me of how badly I just want to get home for Thanksgiving.