The train from Zurich to Lucerne tips you out right by the lakeside, practically on the steamboat piers. A white paddle-steamer takes you out of the city, past leafy slopes and expensive-looking mansions. Tribschen, where Wagner wrote the "Siegfried Idyll," slides away to the right as you head out across the main arm of the lake. At the foot of Mount Rigi, shortly before the steamer makes its whistle-stop at the lakeside village of Hertenstein, is a promontory where — if the sun is coming from the west — a yellow-colored cube shines among the trees. This is the house that Russian composer Sergei Rachmaninoff built between 1931 and 1934: Villa Senar, his last attempt to make a home outside Russia in Europe.
After concerts in Paris he would oust his chauffeur and set speed records back to Lucerne
It isn't what you expect; at least, not if your idea of Rachmaninoff is shaped by the lushness of his music. You approach Villa Senar (the name comes from the first two letters of his and his wife Natalia's names and the r of Rachmaninoff) along a curving driveway through a miniature arboretum. Every tree was chosen and placed by the composer; a lilac hangs over the path and if you know Rachmaninoff's songs, that'll prompt a smile of recognition. But the house at the end of this romantic vista is starkly modernist: a low, flat-roofed assemblage of right angles and plate glass whose ochre walls can't disguise the influence of Adolf Loos and Le Corbusier. In fact, it was designed by local architects, but the specification was Rachmaninoff's, right down to the sole ornament — the initials SR in slim deco lettering on the front door. Other Tsarist emigrés recreated little Petersburgs of velvet plush and bubbling samovars. Rachmaninoff — a man routinely described as "a ghost" in his own lifetime — built himself a sleek new machine for living.
Perhaps it shouldn't come as such a jolt. Since his death (1943, in Beverly Hills) we've had eight decades to get past the outdated critical orthodoxy — expressed most notoriously in the 1954 Grove's Dictionary of Music — that "he can hardly be said to have belonged to his time at all." Rachmaninoff's response to his time is audible to anyone with ears to hear. Listen to the opening of the Piano Concerto No. 3, composed in 1909 when he was still the squire of a country estate south of Moscow. The orchestra is soft and dark, the piano's melody rolls endlessly away to the horizon. Then try "Rhapsody on a Theme of Paganini," the first work he wrote entirely at Villa Saner in the summer of 1934. By now his career was an unending cycle of concert tours by sleeper-train and liner. The "Rhapsody" is brusque, hard-edged: assembled from fleeting episodes, glimpsed and left behind at often breathless speed. It's music of clean lines and glinting chrome.
It turns out that Rachmaninoff was always a bit of a speed demon. A forthcoming book by Fiona Maddocks, Goodbye Russia: Rachmaninoff in Exile digs beneath his public persona as the last of the Romantic keyboard lions, detailing his enthusiasm for Art Tatum and American automobiles (Packards seem to have been a particular favorite). It's a myth that he traveled with his own piano, but he regularly shipped his latest car across the Atlantic, and after concerts in Paris he'd oust his chauffeur and set speed records on the road down to Switzerland. The boathouse at Villa Senar housed a high-powered motor launch, in which he would race the lake steamers. His London agent Robert Ibbs had a go at the wheel and nearly drowned them both. "Don't say anything to Natalia," said Rachmaninoff after a capsizing was narrowly averted. "She won't let me go boating any more."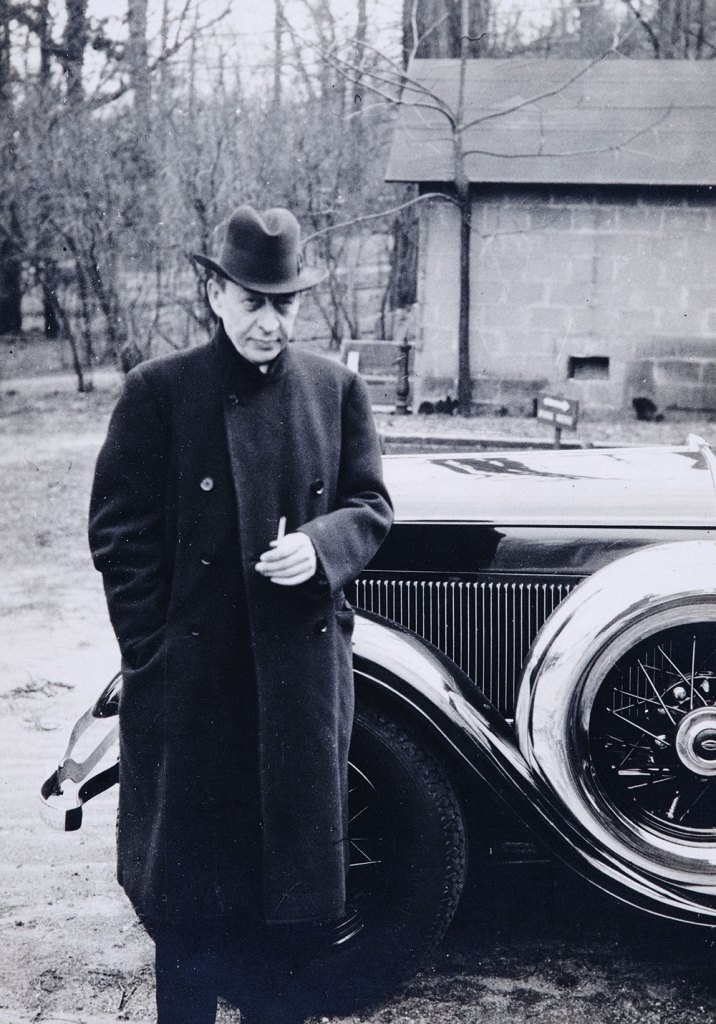 At one point it was reported that Vladimir Putin wanted to buy the villa for Russia
Composer anniversaries are a gift to unimaginative concert planners, but they have their uses: and in this double anniversary year (150 years since his birth, and eighty since his death) it does feel like our perception of Rachmaninoff is evolving. There's been an overdue reckoning with his time in exile, and with the disarming truth that the composer of the Piano Concerto No. 2 was also recognizably a man of our own time, with a taste for fast cars, minimalist design and en suite bathrooms. It's no bad thing. Rachmaninoff's Symphony No. 3 was completed at Villa Senar in 1936: a glowing, bittersweet musical memoir that somehow fuses jazz-age ebullience with the melancholy (faded, but still potent) of a lost Russia. Fifteen years ago it was difficult to find a conductor who wanted to perform it. Now you can take your pick: Rattle, Jurowski, Hindoyan, Nelsons, Wilson — they're all doing the Third.
In Lucerne, where the city's Festival has been building to the anniversary year for a while now, Riccardo Chailly conducted the symphony with the Festival's own super-orchestra shortly before COVID. You sense that after decades under the spell of the other genius-in-residence (the one at Tribschen) both Festival and city have finally taken ownership of the composer across the water. There's an exhibition, Rachmaninoff in Luzern, at the city's Hans Erni Museum. "Composed in Hertenstein," noted the program book, proudly, when pianist Beatrice Rana, conductor Andres Orozco-Estrada and the Lucerne Festival Orchestra performed this year's homage: a glistening, thrillingly physical account of the "Rhapsody on a Theme of Paganini," played with the accelerator pressed very much to the floor.
A homecoming? Yes, and no: this music belongs here. Fiona Maddocks points out that Rachmaninoff was in the audience at the opening concert of the very first Lucerne Festival in August 1938. Framed on the wall at Villa Senar is a poster for another Lucerne Festival concert on August 11, 1939, this time with Rachmaninoff as soloist.
A few days later, as war loomed, he left Villa Senar — and Europe — forever. The Swiss Army requisitioned his speedboat and the house eventually went to his grandson Alexandre, who painted it white and died in 2012, leaving a nightmarish legal mess. At one point it was reported that Vladimir Putin wanted to buy the villa for Russia.
"That was mostly a rumor," says Andrea Loetscher, managing and artistic director of the Serge Rachmaninoff Foundation, which now runs Villa Senar. In one respect, Lucerne certainly has taken ownership: the Canton of Lucerne bought the house last year and registered it as a historic monument. It's been open to the public since April, and the foundation is beginning the delicate work of conserving its contents while trying, as far as is practical, to preserve its aura — the sense that Rachmaninoff has only just left.
The plan is to host concerts, talks and masterclasses with small audiences in the villa's music room; to try and impart something of the spirit of the place and bring the man to a new generation. It's a noble ambition, and Rachmaninoff's music is so beloved — his presence at Villa Senar still so potent — that it's possible to believe the plan might succeed. Yuja Wang, Lukas Geniusas and Daniil Trifonov have already participated.
Meanwhile you can see Rachmaninoff's piles of sheet music, his monogrammed bath towels, his desktop calculating machine (he was always an early-adopter) and his framed photographs of friends from the world he lost — Rimsky-Korsakov, Tchaikovsky, Chaliapin — as well as the life he remade in exile. Steinway & Sons sent him a grand piano for his sixtieth birthday: it's still here, and in good condition. Ask politely and you might even get to play a chord.
And scattered throughout the chic, airy rooms are personal objects that soften the cubist austerity and hint at a private man that his vast global public rarely saw. Stravinsky called Rachmaninoff "a six-and-a-half-foot-tall scowl," and his official portraits rarely show a smile. But on his composing desk — turned so that only he could see them — there are different photos, unfamiliar ones. Rachmaninoff holding a grandson and a teddy bear, pulling a funny face for the little boy; Sergei and Natalia together, looking tired, but each with an expression of unforced warmth. The atmosphere of a place is a fragile thing, but for a few years in the 1930s it seems that the exiled master really did find some sort of peace among his trees and his loved ones on the shores of Lake Lucerne. "These are not exhibits," says Loetscher. "This is not a museum. We want to welcome people into Rachmaninoff's home."
The 2023 Lucerne Festival runs until September 10. Rachmaninoff in Luzern is at the Hans Erni Museum until January 14, 2024. Villa Senar is open for special events all year round. This article was originally published in The Spectator's UK magazine. Subscribe to the World edition here.