Quizzed on how best to assimilate a new culture, travel writer and celebrity chef Anthony Bourdain once uttered the famous line: "Drink heavily with locals whenever possible." I never met the man, but still I miss him and his deft writing. The Opening a Bottle series is about getting pickled with people far cooler than I am, in whatever city I've washed up in.
An incredulously cloudy spring day in Lisbon. I'm sitting on a low sofa at Go A Lisboa, one of the city's glitziest new rooftop spaces, with panoramic views of the majestic Pont de 25 Abril bridge. It joins the legion of high spec bars and dinner spots popping up weekly in this ever-changing city — which is pulling crowds like never before.
Entrepreneurial French couple Antoine Biehler and Sophie Lacoste bound in, ready for a liquid lunch after a long day of meetings. They moved here from Paris; Sophie's background in food, Antoine's in music. Now they're at the epicenter of Lisbon's thriving cultural scene. This coming weekend, a confetti cannon of passion projects kicks off for them: MOGA Festival.
This five-day celebration of world-class electronic music, elevated fast food, wellness and the plugged-in local community spans several locations in central Lisbon and the sleepy beach town of Costa da Caparica.
"So, what are we drinking?" I begin.
"Bubbles!" Antoine laughs. "They give me energy! I need bubbles! I drink champagne in a wine glass — if it's good, drink a lot of it."
I'm not one to argue.
"They have amazing champagne in Portugal. I prefer the Portuguese sparkling. And they are super cheap. A bottle of really good champagne is around €13."
Fizz secured, I ask them to tell me everything.
"In 2019, Antoine was working for Universal and they wanted to launch See Tickets in Madrid and Lisbon," Sophie starts.
"Food, music, tourism — there's this element of cross-production that I wanted to tap into here," Antoine adds.
"And Sophie was speaking perfect Portuguese!" he jokes.
"Haha, no! But I lived in Sao Paulo for a time," she smiles.
The couple takes care of the (fancy) fast food at huge events like Sonar festival, Web Summit's Night Summit and even Comicon. Then there's Antoine's role as a consultant for Southern Europe's markets at the ticketing and event listings website Shotgun (bigger than Resident Advisor in Portugal).
"I always worked in e-commerce and had a dream to cross over to the other side," Antoine adds. "Sophie comes from the food industry and we had a restaurant together in Paris. I come from music. We created tac agency, realizing there was something to do to improve the experience of a festival. With MOGA we get to share our passion."
For them (and what feels like every other young creative right now), Lisbon was the obvious place to settle.
"We lived in Paris for ten years, but we're both from the south of France — Biarritz and Cannes," says Antoine. "It made sense for us to live at the beach. After Paris we wanted a slow life, which Lisbon is not! But we're doing some surfing!"
I know what they mean. I've been living in Lisbon (on and off — thank you, Brexit) for three years, and it's hard not to get sucked into the "work hard, play even harder" culture.
Nights are spent in gargantuan, Berlin-style nightclubs, drinking on terraces or partying at the beach. Heavenly parks and gardens are made for recovering, alongside streets full of artisan boutiques and specialist coffee shops.
Wellness culture is huge, too. Digital nomads surf and enjoy beach yoga sessions before working in co-working sites and cafés, grabbing lunch breaks in their suntrap of choice.
Creatives are moving concept stores into dilapidated buildings everywhere, paint still flaking off the Azulejo tiles. A new event (Antoine runs comedy circles too, starting 351 Comedy Club) springs up every month. If you're ambitious, there are opportunities everywhere. It's not an easy place in which to slow down.
Sophie and Antoine strike the balance by living at the beach, over the big red bridge.
"We surf and kite surf there, and we have two young kids," says Sophie. "So Lisbon is for work. Caparica is for our day-to-day life."
"And the microclimate is awesome, always sunny," says Antoine. "I can see Sintra from Caparica — it's always cloudy! I'll phone my friends living there, and make fun of them asking if they're enjoying the rain."
So, back to MOGA. I ask Antoine how they got involved.
"My friends (and co-founders) Mat and Ben had worked on a lot of festivals around the world. Eventually we created MOGA Caparica. MOGA started in Essaouira (Morocco) in 2016. We expanded into Caparica in 2021; it was incredible.
"Our original plan for MOGA was an authentic, Moroccan theme. We wanted to create a cross-cultural exchange between Portuguese and Moroccan cultures. We love that both are connected to the Atlantic Ocean. They're both fisherman cities, food-oriented — strong people, big characters — but liberal, and historically open to immigration. We wanted to celebrate that. We invite DJs from both countries, and serve authentic Moroccan food."
"And this was happening right after the pandemic?" I wonder.
"Yes" Antoine says. "We thought, OK, there's a 95 percent chance it won't work — the rules were constantly changing — but finally, the idea was approved by the city. We had one month to create it. We wanted to do an authentic Mezcal ceremony… but we had no Mezcal suppliers. A Moroccan bazaar… but we had none of the furniture."
An epic twist of fate meant the show went on — exactly as they'd originally hoped.
"Then, I go to a bar two weeks before MOGA is due to begin. I meet this crazy Brazilian guy called Felipe [Di Cunto], and we have a beer or two. He says, 'I have a great Mezcal supplier. I've just been to Morocco and collected beautiful pieces; pillows, gorgeous seating. And I'd love to work on creating an after party.' He solved all my problems in one go. It was amazing. We're now great friends. And here we are!"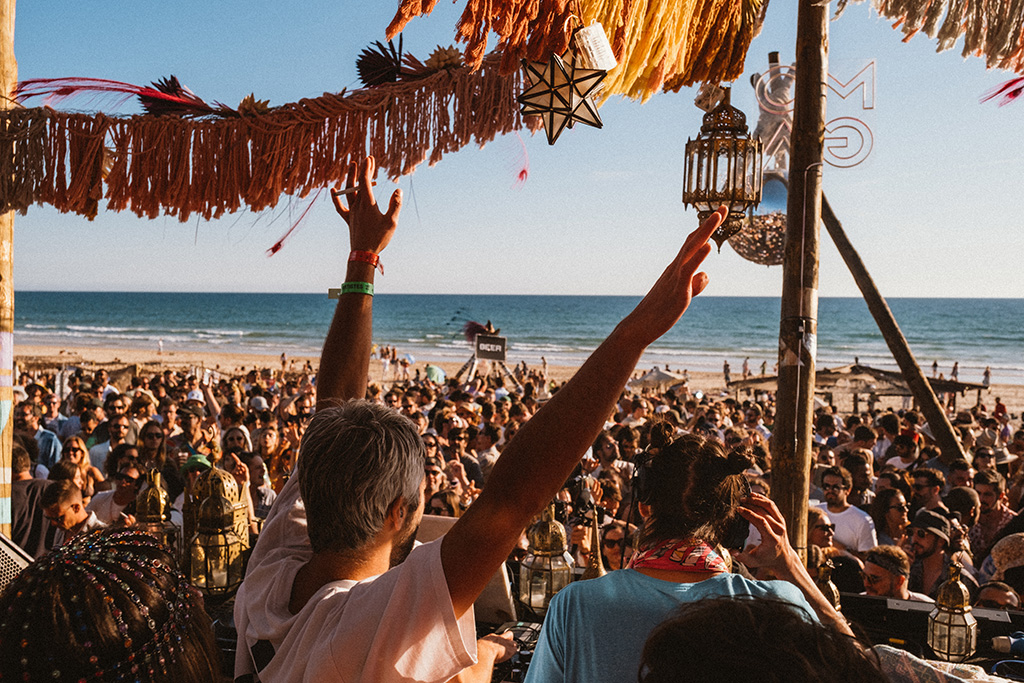 I joke that most of MOGA's ticket holders are going to be British, noting more than a few popular names on the lineup. This is an amazing chance to see a handful of true music legends in an epic beach location.
"We're used to watching Bradley Zero in the rain!" I exclaim.
The beloved Peckham DJ will join deep house innovator and New Jersey stalwart Kerri Chandler, German-born Hunee and Chilean producer Shanti Celeste.
"Yes! We were saying that yesterday, actually. The Brits know their music. We love that we're sharing what we love with so many different nationalities visiting Portugal."
As MOGA gains popularity, does that affect who they choose to play?
"The third year can be a pivot point for a festival; we had to balance our choices. We decided to take risks this year. The line up is more disco house. We're going more underground, with more niche decisions.
"In the main we try to work with local DJs. At its heart, it's a community festival."
Which acts will Antoine be making sure he sees?
"Sadar Bahar — an underrated legend — and a really great guy."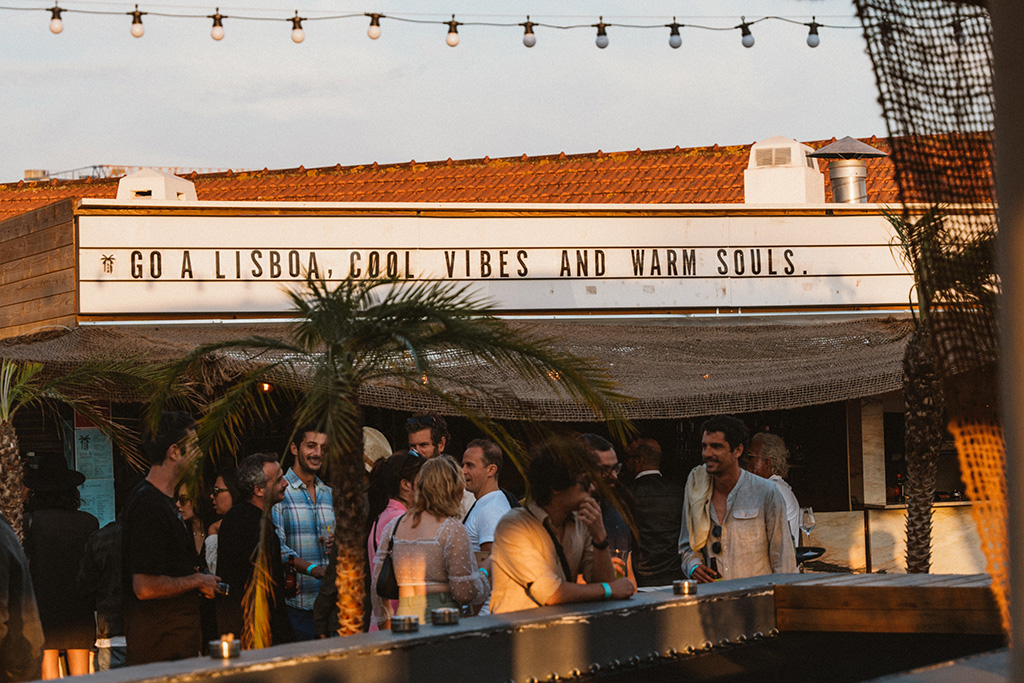 Lisbon's always been an incredible city, with everything to offer, but right now, it really feels like something's bubbling. Do they agree it's the best European city to live and work in right now?
"For sure, it's Lisbon — no regrets. We still love Paris, but here it's better to run projects like this. The quality of the entertainment scene has exploded: it seems like in Europe it's the perfect combination for quality of life — the beach and the nature in a relatively small city — and an explosion of entertainment. A perfect ratio. I don't see anywhere else in Europe where all the elements align.
"The dynamic is just different. Everyone is helping each other, everyone is open, and this is what we love here in this city: it's an explosion of food and music."
And long will that continue, if these two have anything to do with it. We order some more bubbles, toasting the effervescent city we're so lucky to be in. Then check the weekend's weather forecast, one more time…
MOGA festival runs until Sunday June 4 and will expand to Senegal in 2024.