I'm ideologically opposed to bicycles for all the obvious reasons: they don't have lovely big nostrils which you can blow across gently or stroke inside to feel the soft, delicate skin; they can't jump hedges; and the kit you're expected to wear on them is quite hideous — not a smart, black, eighteenth-century-looking coat but vile, garish, deeply unflattering and unsexy Lycra.
Still, after watching a few episodes of Tour de France: Unchained, I've softened my position slightly. Say what you like about those infuriating, car-impeding, road-hogging cyclists but the ones who participate in the big international races don't half have some balls. (Three actually, if the stories I hear about the effects of those uncomfy saddles are correct.) When they descend the windy mountain roads, they reach up to 62mph. Imagine hitting the tarmac at that speed wearing little but a pair of swimming trunks.
In fact, we don't need to imagine, as many of them have the scars to show it. And they're so skinny (like thoroughbreds — which, with their long, gaunt faces and slender limbs, they resemble — they exist in a nervy state of highly strung racing fettle) that there isn't an ounce of fat to cushion the blow. Then, the next day, unless they're properly crippled, they have to get on their bike and do it all over again. And again. And again, till they've covered 2,200 miles in twenty-three days — at which point all but one of them will have lost.
The Tour de France is not, of course, the first sporting event that has been given the Netflix fly-on-the-wall, inside-scoop treatment. They tried it, very successfully with the still ridiculously watchable Formula 1: Drive To Survive. (I got ludicrously excited the other day when I saw Red Bull chief Christian Horner and his wife Geri Ginger Spice being trailed by a camera crew at Edgcote races, even though normally I care little for celebrities.) Then they tried it with golf and tennis, neither of which seems to lend itself quite so involvingly to such intense scrutiny. But with the Tour de France, I think, they've struck gold.
Partly why it works is the scenery. Unlike Grand Prix circuits, which are much of a muchness, virtually every stage of the Tour is quite gloriously picturesque, especially when you get to the mountain sections. Whenever you tire of panting men in multicolored Lycra, all the camera has to do is cut away to a shot of a charming red-roofed café, a hillside village with cobbled streets or a vertiginous aerial view — and once more you're in an ecstasy of photogenic escapism.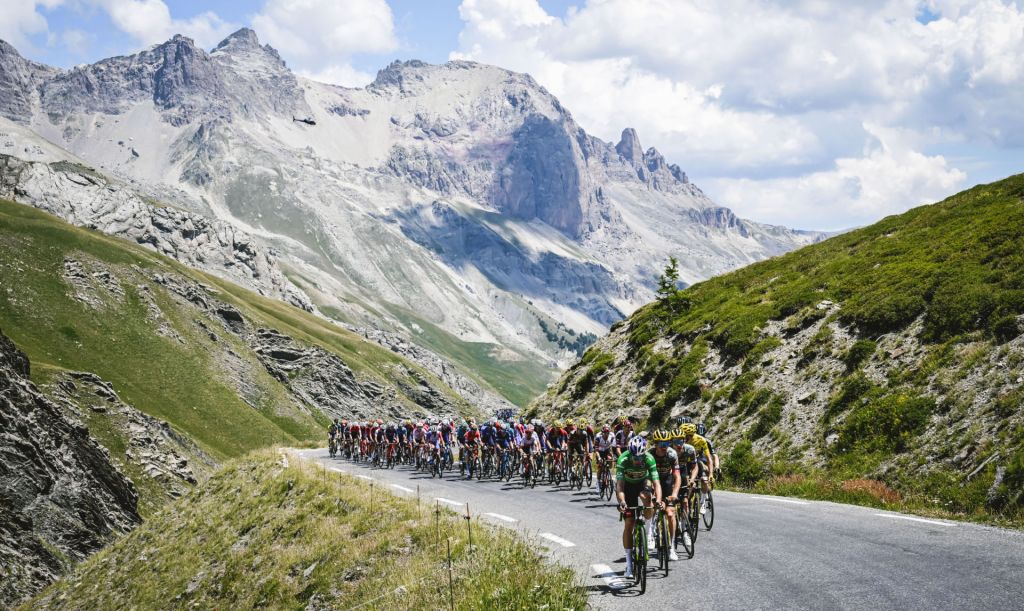 The personalities are more relatable too. You or I probably wouldn't have the physical co-ordination to be a world-class golfer or the reaction time to be an F1 champion. But professional cycling, you can't help feeling, is a sport at which virtually any of us could excel, just as long as we had the resolve to live like a monk, and to relish extreme boredom and endless suffering. These are ordinary men who, by sheer force of will, have elevated themselves almost to the level of holy martyrs with their skeletal St. Sebastian torsos and an otherworldly messianic glint in their eyes. Gosh it must be a nightmare being married to one of them.
Then there are the customs and traditions of which — it being a French sport — there are many. For example, there is a strictly observed division among the riders, not unlike the hierarchy in a restaurant kitchen. At the top are the star riders, pampered like prize bulls because they are the ones expected to have a chance of winning the race. Then there are the "domestiques" — i.e. "servants" — whose job is to ride ahead and beside the stars to act as their windshields.
This can make an enormous difference to the stars' energy levels. Being surrounded by riders in the midst of the peloton (lit. platoon) can reduce drag by as much as 90 percent. That means you have the extra resources to be able to pull away from the pack on the final stretch. But obviously it's not the only tactic.
My favorite episode so far starred the English rider Thomas Pidcock, a world-champion mountain biker, competing in his first Tour as a domestique. But for the grueling Alpe d'Huez stage, his team Ineos Grenadiers decided to give him a shot at winning a stage victory. Pidcock, with the pure insanity, nervelessness and lightning reactions which are the forte of the off-road competitor, chose to break with Tour de France traditions and do most of his overtaking on the downhill sections. I shan't tell you what happens, but it's very exciting to watch.
This article was originally published in The Spectator's UK magazine. Subscribe to the World edition here.