It is, of course, traditional for film and TV reviewers to demonstrate their steely high-mindedness by claiming that anything describing itself as "erotic" is in fact deeply boring. Unfortunately, faced with Netflix's four-part Obsession, the b-word is hard to avoid — the twist in this case being that boring was as good as the series got. The rest of the time it alternated between the inept, the infuriating and the utterly mystifying — and not just because you could never fathom what on earth the characters thought they were up do.
How, for instance, did so much money and talent get wasted on a show that the people involved with must surely have realized was terrible? And did the makers really think that we'd put up with any amount of humorless tosh just for the sake of some sex and nudity? (Not, admittedly, that my fifteen-year-old self would have had a problem.)
The sex was largely wordless, which, given the dialogue when they did speak, was maybe just as well
For what it's worth, here's the basic plot — at which point I might have issued a spoiler alert if Obsession hadn't come pre-spoiled. Richard Armitage played William, whose status as a brilliant surgeon was briskly established by him saying "vitals?" as he separated conjoined twins and was hailed by colleagues as a brilliant surgeon. His home life seemed pretty agreeable too, with house and wine glasses both outsized, and an adoring and attractive wife who, as a high-flying barrister, was much given to sitting up in bed with specs and a laptop.
But then, at a House of Commons party where William was being courted as a potential health czar, he met the beautiful Anna and fed her an olive that she did her plucky best to render phallic. Not long afterwards, she summoned him to her swanky flat where they somehow managed to stare at each other with hammy intensity for several minutes without giggling, before having solemn if brief intercourse on the wooden floor.
For a lesser couple, the fact that Anna (Charlie Murphy) was the girlfriend of William's son Jay might have represented something of a moral dilemma. These two, however, remained refreshingly guilt-free as they had urgent sex against a wide variety of walls. The sex was also largely wordless, which, given the dialogue when they did speak, was maybe just as well. ("It is my choice to surrender to you… I give you your power.")
Not that Anna was entirely without an ethical code. Sensing that Jay was about to propose, she quickly rang his father to get his approval for accepting — in return for which "You'll have more of me." And with that, it was back to sex in which cuddles, comfy beds and nice cotton sheets played little part.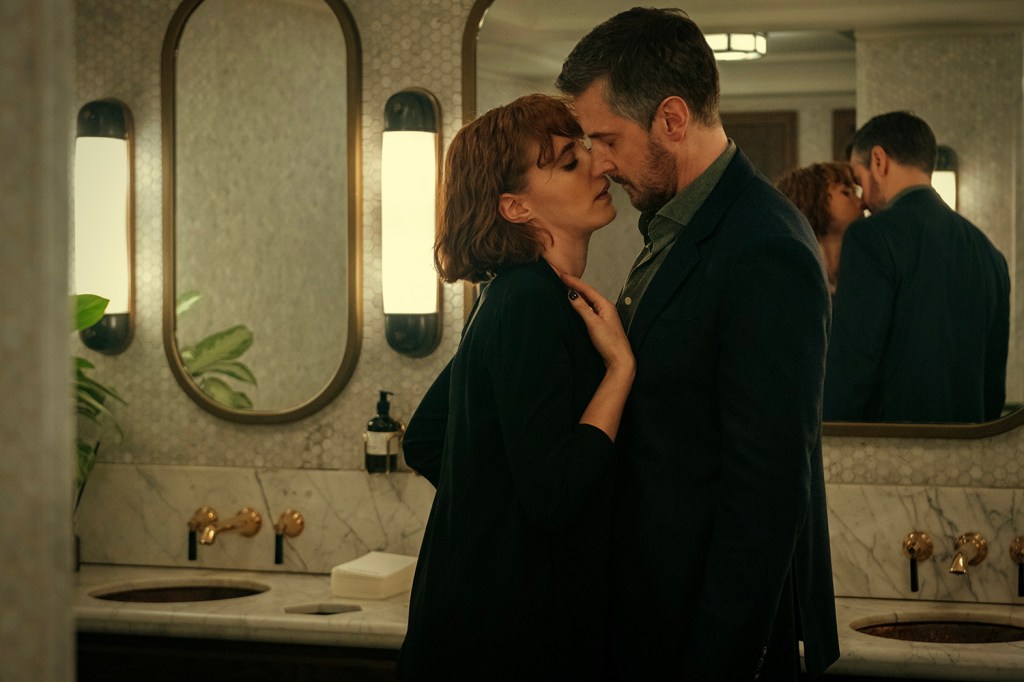 But by now, it was already clear that the best way for the over-fifteens to get through the program was to take a slug of booze at every cliché (up to and including someone signaling inner turmoil by squeezing a wine glass until it shattered) or thumping piece of dramatic irony ("I'd like you and Anna to get to know each other," the unwitting Jay told his priapic old dad at one stage). Certainly, you'd have been wasting your time looking for any psychological or narrative coherence.
Anna's own way of deflecting awkward requests for information about her strange behavior was to tell her paramours that they should "love the questions" rather than seek anything so naive as an explanation. In a hotly contested field, perhaps Obsession's biggest flaw was to think that it could palm off its viewers with the same guff.
This article was originally published in The Spectator's UK magazine. Subscribe to the World edition here.