Quiet in the feature film world since the 2018 release of First Man, Damien Chazelle returns to the Hollywood-centric beat that brought him success in La La Land for Babylon, perhaps his most ambitious film yet.
Opening in a raucous Hollywood party at the height of the Roaring Twenties, through a series of tracking shots, Chazelle introduces us to the three central characters of the film. Manny Torres, played by Diego Calva in his breakout role, attempts to navigate the atmosphere as an aspiring, wide-eyed Mexican immigrant who dreams of leaving his lowly assistant work to become something more. This allows Manny to serve as the surrogate for the audience.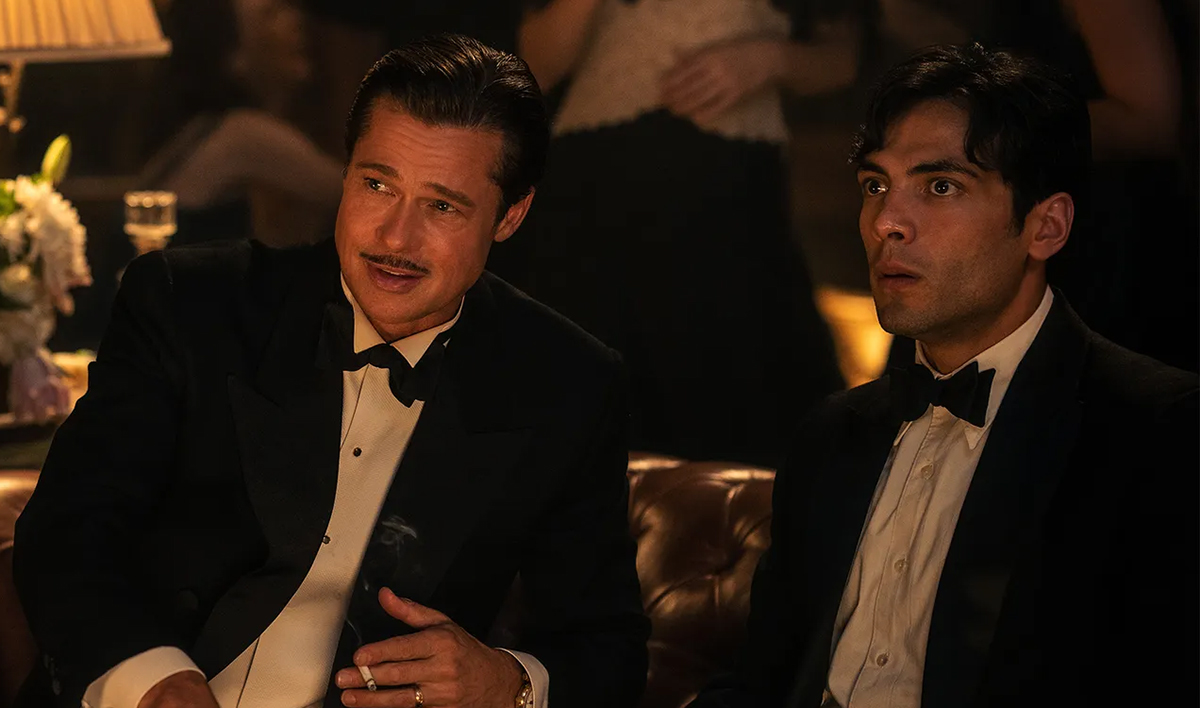 On a smoke break, Manny bumps into the boisterous and pleasure-seeking Nellie LaRoy (Margot Robbie), as she crashes the party. Nellie, like Manny, comes from a poor background and yearns to be a star. But unlike Manny, Nellie is defined by a fearless and carefree attitude — which catches the attention of the party-goers. The two leads bond over their shared dreams of stardom. Manny is instantly drawn to Nellie.
When Jack Conrad (Brad Pitt) makes his big, splashy entrance, we see the epitome of what Manny and Nellie aspire to be: a glamorous movie star. When an elephant is brought into the room, literally, the party devolves into chaos, as Manny and Nellie stumble into stardom: Nellie is cast in her first film, and Manny becomes Jack's impromptu assistant.
Following the characters as they traverse the film industry — before and after the birth of sound — Robbie, Pitt and Calva turn out powerhouse performances. Chazelle's screenplay (his first solo outing since 2016's La La Land) chronicles their lives in a fashion similar to the atmosphere in the opening scene: messy, bloated, and utterly captivating.
Chazelle intertwines the three central arcs with a scattergun approach, bouncing between characters and the situations they find themselves. As Jack's star power diminishes, Manny rises through the ranks as a studio executive. While Nellie finds success in silent productions, she quickly finds herself at a crossroads when sound is introduced — threatening her career like Clara Bow and so many other stars from that era. Exploring the paradoxical nature of the film industry's cruelty and cynicism and the hopeful, dreamlike art it creates, Babylon offers a heartbroken reflection on the illusory qualities of Hollywood.
Despite its thematic power, the characters used to execute the film's vision are hurt by woefully underdevelopment. Jack's journey is the exception, which is executed in a pitch-perfect manner that climaxes in a strong finale. Nellie's story begins with promise, but eventually just feels like a one-note nuisance that lacks any semblance of a compelling arc. Manny's character progression is muddled and structurally flawed; his infatuation with Nellie plays like a half-hearted and undercooked version of the central relationships found elsewhere in Chazelle's oeuvre. Perhaps too expensive for its own good, the film ends with many of its threads left hanging — its characters and storylines feeling rushed in the process.
Yet despite its flaws, you can't help but be impressed by the sheer technical brilliance of Chazelle's film. The director leans into his script, taking numerous bold swings that less confident filmmakers wouldn't have dared to. Linus Sandgren's sweeping cinematography, full of color and energy, is bolstered by Tom Cross's editing. Justin Hurwitz's score adds to the experience by drawing from a rich tapestry of cinematic influences. Those elements, along with intricate production and costume design, allow Chazelle to capture the epic scale of Old Hollywood.
Though the script ultimately prevents the movie from reaching its full potential, Chazelle's masterful direction and his three stars have produced a magnificent film that harkens back to an era of filmmaking defined by the convergence of art, innovation, excess and dizzying spectacle.