Last summer, it seemed clear to me, at least, that should Florida governor Ron DeSantis enter the 2024 primary, a major point of contention with former president Donald Trump would be the contrast in their responses to Covid.
Where Trump gave decision-making power over to the cabal of Anthony Fauci, Deborah Birx and the burgeoning public health bureaucracy, DeSantis defied their silly authoritarian approaches in his state to open beaches and businesses. The comparison is obvious and for DeSantis quite beneficial. The open question was how Trump would respond.
Well, a week into the DeSantis campaign, now we know: Trump thinks DeSantis sucked on Covid, and so did Florida! Instead of sounding a note of ownership of the state's successes — that such freedom was only possible under a White House that respected gubernatorial power to make such decisions — Trump has decided DeSantis's local control was very, very bad, despite all evidence to the contrary.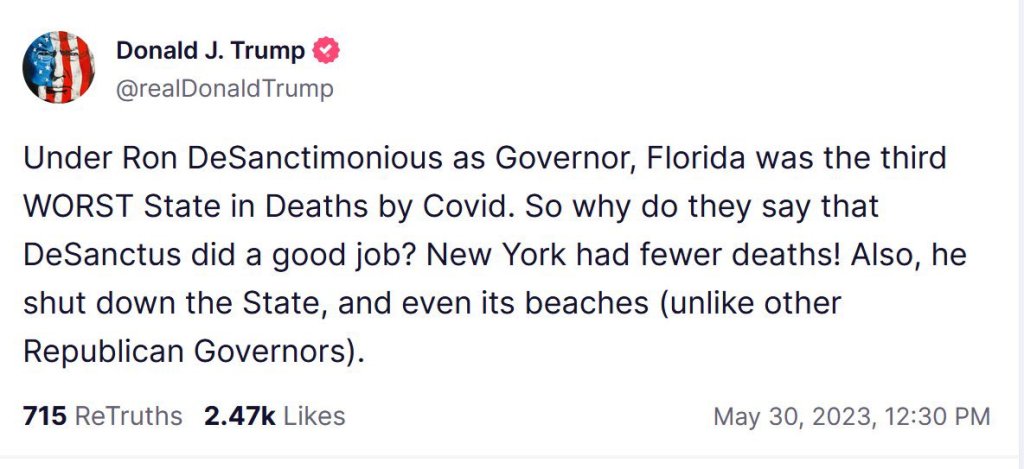 Has he hired whistleblower lunatic Rebekah Jones yet?
The best part of this approach is Trump's decision to laud the disgraced Andrew Cuomo's handling of Covid in New York, which led to immeasurable excess deaths. Ever the antithesis of hip, Trump has become the last of the Cuomosexuals, in thrall to the former governor's every capable-sounding word and his hand sanitizer that was definitely not a convoluted grift.
The exiled Cuomo hailed the praise from the former president: "Donald Trump tells the truth, finally," he tweeted. Trump's campaign later sent out an email blast containing "evidence" of the Florida governor's "Lying Record on Covid." The mailer criticizes DeSantis for praising vaccines and, gasp, being pictured wearing a mask… both things for which President Trump's administration advocated.
Maybe Trump just never got around to having his merch restitched. But the idea that he alone, Democrat or Republican, would be out there defending Andrew Cuomo's record just goes to show: there is honor among skeeves.