A high school in Illinois is offering math classes segregated by race, according to course listings for the 2023-24 school year found on the school's website.
There are at least five course offerings at Evanston Township High School that are only open to either black or "Latinx" students.
A course description for an Algebra 2 class, for example, states that "this code for the course is restricted to students who identify as Latinx, all genders."

An Advanced Placement Calculus class is similarly "restricted to students who identify as Black, all genders." There is a separate AP Calculus course for "Latinx" students, as well.

There is only one course that is segregated by both race and gender: MA0512, a Precalculus course for sophomores and above that may only be taken by black males.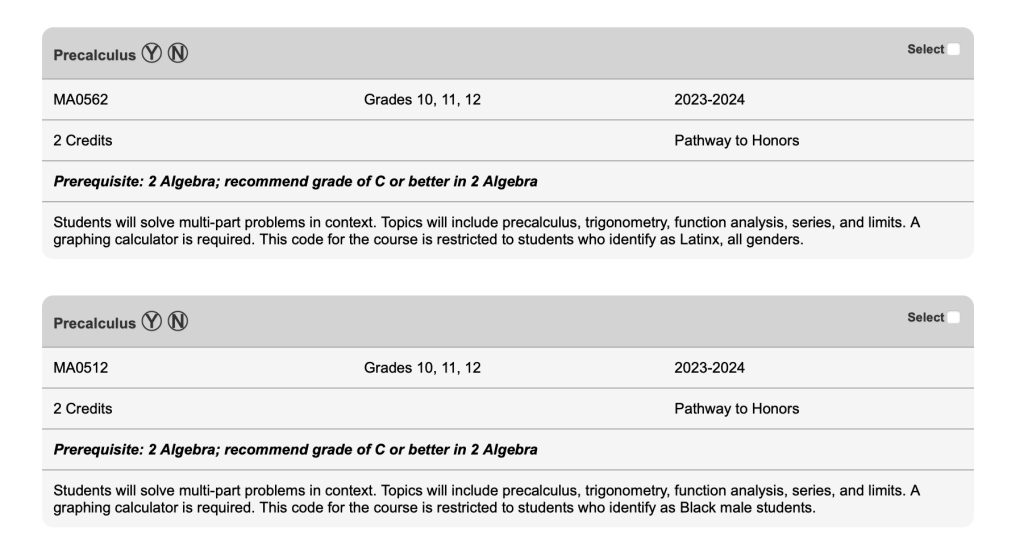 The prerequisites, credits and course descriptions for MA0512 (for "Black male" students) and MA0562 (for "Latinx" students of all genders) are otherwise identical to MA0502, the Precalculus course for tenth-, eleventh- and twelve-graders which is not restricted by racial group.
Evanston Township High School is located in Evanston, Illinois, an affluent suburb north of Chicago. It is the largest high school under one roof in the country, with the campus spanning sixty-five acres and boasting a greenhouse, planetarium, a nature center, gyms and two swimming pools. The high school's move to offer separate math classes for students of certain racial groups echoes actions taken by colleges across the United States, which have started to offer graduation ceremonies separated by race in recent years.
Evanston is the fourth wealthiest city in the Midwest, according to NerdWallet, and was the first city in the United States to issue reparations to black residents. The first phase of its reparations plan gave $25,000 to sixteen residents for use on mortgage assistance, renovations or a down payment on a home to address historical segregation in housing. Evanston intends to give out $10 million in reparations in total; in 2023, the city council voted to expand the housing reparations program to include direct cash payments.
The Spectator has reached out to Evanston Township for comment.
Update, 3:35 p.m. ET: Evanston Township High School told The Spectator that while it is "proud" of its work increasing access to Advanced Placement math classes for "Black" and "Latinx" students, they do not "restrict" classes to students based on their identity. The high school acknowledged that language in its online course listings was not accurate.
"We do not have (and never have had) a process that restricts students from taking AP classes based on race. No ETHS student is restricted from taking an AP class based on identity or is required to take any class based on identity," ETHS said in a statement.
The high school updated the language in its course listings after our report to indicate that courses are open to all students rather than restricted to students of a particular race or gender. However, certain course sections still say that they are "intended to support" students of color.
"While open to all students, this optional section of the course is intended to support students who identify as Latinx," one section of Algebra 2 states.
"ETHS course offerings provide additional opportunities for students to take designated AP classes," ETHS's statement to The Spectator asserted. "This aligns with our goal to increase access to AP-level coursework at ETHS and is supported by the research on how to effectively increase access and success in AP classes for all students. As a result, access to AP classes for all students, including Black and Latinx students, has dramatically increased over the past decade. We are proud of our work."